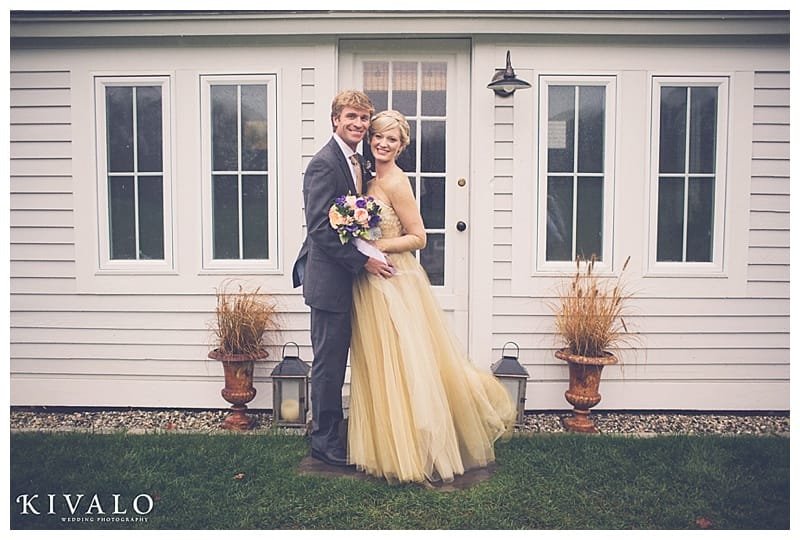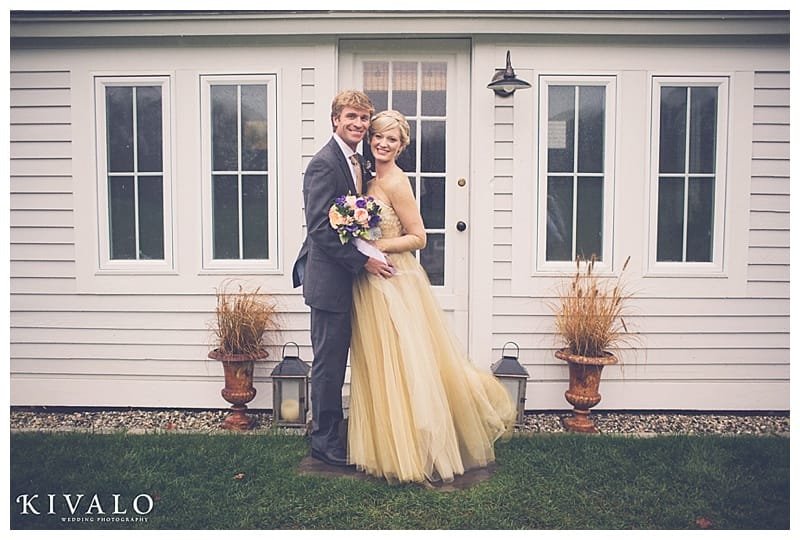 Deciding on your team of vendors for your rustic wedding is incredibly difficult. But before you can make the decisions on who to choose, first you have to find the vendors, and that can be a challenge in and of itself. The Internet and its plethora of vendor directories is great, but it can also be misleading and a huge time sink. One alternative to online directories is to attend bridal showcases in person.
Showcases allow you to see a variety of vendors you might not have run across otherwise, meet the vendors in person to get a sense of whether your personalities would mesh, see a sampling of their wares firsthand without the biased lens of a camera, and, perhaps most importantly, provide a narrowed down selection of vendors, cutting down on the potential of getting horrifically overwhelmed with choices.
But how do you find the showcases to attend?!
One way is to ask your venue (or all of your top contenders for venues). Many venues hold their own showcases for potential and booked brides to present them with a sampling of vendors that they know and have enjoyed working with.
Another is to search for a regional or national curated bridal showcase, like BeSwoon in Maine, which is in its 2nd year now and has different rooms that are decorated in a variety of styles by handpicked teams of vendors.
The Big Fake Wedding (formerly known as The Not Wedding) is another great option, and it occurs in a whole bunch of different locations around the US every year. The Big Fake Wedding always showcases vendors who are local to wherever it is taking place. The photos below were taken by the amazing Patti at Kivalo Photography and are of The Big Fake Wedding's first Portland, Maine, event, which took place this past October at the Barn at Flanagan Farm in Buxton, Maine, which is about half an hour outside of Portland.
The Big Fake Wedding is neat, too, because it features an actual couple who participates in a short vow renewal ceremony to which all of the attendees to the showcase are witnesses. After the vow renewal ceremony, a catered dinner is served (in this case by the incredible Fire & Co. woodfired pizza foodtruck. So delicious!), which is followed by desserts and live entertainment (the Wavelength band rocked it at this event!). Lining the walls of the event were tables set up with different vendors' wares, and each of the dining tables was decorated by a different florist, providing a sampling of styles.
While showcases also run risk of being overwhelming or of not having your perfect vendor there, all-in-all, we think they are a really valuable way to narrow down your selection of vendors (and also just have a fun evening!)
Event: The Big Fake Wedding, Portland
Day of Coordination: The Refinery- Events & Marketing
Dessert Table: Nothing Bakes Like a Parrot
Catering Food Truck: Fire & Co
Entertainment: Wavelength Band
Floral Design, Table 1, 4, head table: The Purple Orchid Event Planning
Floral Design, Table 2, 5, Bouquets & Boutonnieres: Blue Fern Designs, The Finest Florals
Floral Design, Table 3, 6, Ceremony Backdrop: Lana Wescott Events
Event Rentals: Party Time Rentals
Event Rentals, farm tables: Heartwood Essentials
Event Lighting: The Event Light Pros
Hair & Makeup: Bei Capelli
Linen Sponsor: Linentablecloth
Photobooth: TapSnap Phototainment
Photography & Rehearsal Dinner: Kivalo Photography
Photography & Save the Date: ME Photography
Photography & Styled Shoot: Page Photography
Venue: The Barn at Flanagan Farm
Sparkling Wine: Ferrari
Paper Goods: Invitations: Impress Me Designs
Paper Goods: Programs: Gus & Ruby Letterpress
Paper Goods: Accents: Parrott Design Studio
Travel: Bliss by Luxury Concierge Travel
Videography: LMV Productions
Wedding Cake: My Three Cakes
Eternally In Bloom uses "Sola" flowers, which are faux flowers made of balsa wood and tapioca plants to create beautiful bouquets that will last years beyond your wedding day. Nicole, the owner of Eternally In Bloom, was kind enough to sit down with us to discuss what made her fall head over heels for Sola flowers.
RW: You're using sola flowers in your own wedding this coming June, right? What made you turn to using faux flowers in your wedding rather than fresh flowers?
Nicole: I was determined to make my own arrangements for the wedding. Originally I was going to buy fresh flowers the day before and arrange them myself to save some money. After telling a few people about my idea I began to get very stressed about it. They brought up points like what if they die? Will you have enough time? etc. My future mother in law offered to pay for the arrangements, so I didn't have to worry, but they were already helping out in so many other ways. I wanted a better solution so they wouldn't have to pay.
RW: Do you plan on using faux flowers throughout the decor, or just for your own bouquet and those of your bridal party?
Nicole: I will be using sola flowers for my centerpieces as well as throughout the reception hall.
RW: Why did you choose to use Sola flowers in your wedding rather than a different type of faux flowers, such as silk or paper flowers?
Nicole: I never really was fond of silk flowers. I was actually browsing the Internet for silk flowers when I found the concept of sola flowers. I was super excited to purchase some samples and start to arrange them. Once I received them, added the stems, dyed them to the colors and arranged them, I knew I wanted continue to make them. I didn't have much to do with a ton of bouquets so I decided to start selling them so I could continue to make them.
RW: How long do Sola flower bouquets last?
Nicole: With proper care they can last years. They are fairly delicate, but if you just keep them in a vase on table or laying on a shelf they won't be harmed.
RW: I see that you carry Sola flowers that resemble roses and carnations. Are there any other types of flowers that they come in?
Nicole: Sola flowers come in a wide variety of types including mums, zinnias, dahlias, roses, and carnations. And I then I also use real baby's breath as a filler flower.
RW:What colors do the flowers come in?
Nicole: The flowers that I get arrive in a cream color. I then dye them to any color desired. The colors for my wedding were pink and yellow so my personal bouquet (it is actually the one in the top photo of this article) is mostly cream with hints of yellow, pink and even a little brown.

RW: Do you create custom bouquets?
Nicole: Everything is actually custom. That way the flowers can match the wedding. Items on my Etsy page are just some examples of what is available. If you are interested in an order feel free to email me at eternallyinbloom@gmail.com. I also offer free shipping nationwide for orders over $200.
Thank you so much for talking with us today, Nicole! We can't wait to continue to see more bouquets designed by you in the future! Get in touch with Nicole on her Etsy page, her website, or by emailing eternallyinbloom@gmail.com!
Cupcakes are becoming more and more popular at weddings, especially at rustic themed ones in which they serve as a playful element of vintage-inspired dessert bars. Cupcakes are easy to distribute to your guests (no more waiting forever for a slice of the beautiful but inaccessible cake), fun, and often much less expensive than a traditional cake while still being easy to meld with your color scheme and overall theme (and did we mention, absolutely scrumptious!?). One way to help personalize them for your wedding (and an easy way to provide a tiny scrapbooking item for you or your guests) is through cupcake toppers. Enter: Thick & Thin Designs. John & Christine Carney, a husband and wife power team, started Thick & Thin just last year out of the IMRC maker space at University of Maine, Orono. Their business quickly took off, and now the couple makes thousands of personalized, laser-cut cupcake toppers throughout the year. These are just any run-of-the-mill toppers, either. Some of the couple's best sellers are zombies, gears, and hipster glasses! Their repertoire also includes many outdoors-themed toppers that caused rustic weddings to come unbidden to our minds, such as antlers, bunnies, state outlines, and pine cones. John & Christine are also happy to create custom toppers to perfectly fit your wedding decor.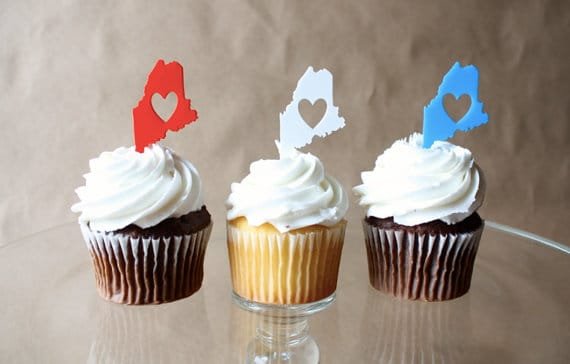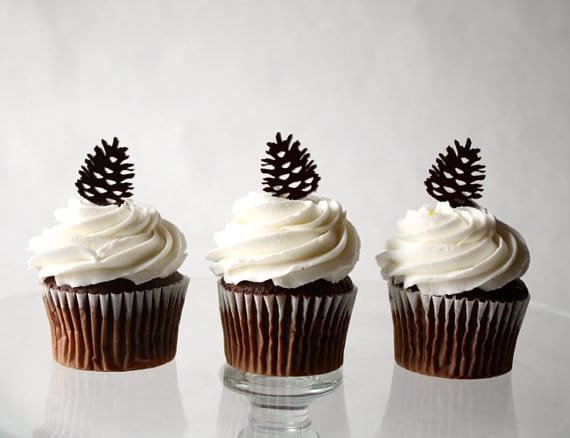 Photos via Thick & Thin Designs