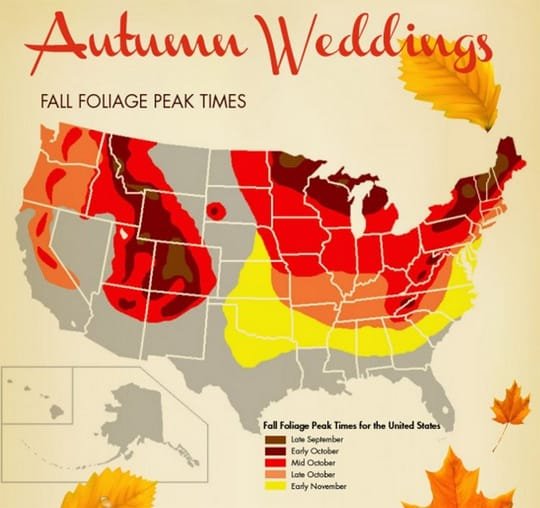 With its changing colors and perfect temps, Autumn is perhaps the most rustic-friendly of all wedding seasons.
There is no doubt that autumn is the new trend in seasonal weddings. And it's easy to see why: you can avoid the busy summertime weekends and get off season rates from many vendors. Not to mention, Mother Nature provides stunning outdoor décor, the weather is typically pleasant, even outdoors, and guests have more availability and fewer schedule conflicts than during summer vacations.
There are many fall wedding locations that set the scene for a stunning wedding; combining the vivid hues of fall foliage with dazzling landscape features like waterfalls, lakes and mountains. Here are some great ideas for wedding venues that have it an extra something special:
image via Stonehurst Manor
Aspen, CO
A sunny fall day can be perfect – but a cloudy fall day can be unexpectedly chilly. But in Aspen it is sunny 300 days a year, so breathe easy (and the mountain air will feel amazing!) The shimmering gold Aspen trees make a lovely backdrop for photos and with an elevation of over 7,000 feet, almost all venues will have a spectacular view.
Stowe, VT
Stowe is the perfect location for romantic  Vermont weddings. The first 2 weeks of October is ideal for a peak foliage VT wedding, and the Green Mountains are a dramatic foil for the rich crimson and amethyst foliage. Everything is in full swing in the small town of Stowe and it's easy to find local produce, like fresh blueberries and morel mushrooms, to create a local sustainable wedding reception. The temperature averages a perfect 60 degrees making fall the best VT wedding season.
Gatlinburg, TN
The Smoky Mountains are fondly known as the wedding capitol of the south, and couples love the abundant waterfalls and streams that make a wedding venue sparkle. Couples looking for a rustic mountain wedding will find the venue of their dreams in Gatlinburg.
Midcoast, ME
Summertime in Maine is the ideal for many couples getting married. But fall brings a special something that can't quite be described. The charming towns like Camden, Rockport and Stockton Springs, come alive in the fall when the seasonal tourists leave and the community begins it's offseason lifestyle. The charm of the coast with lovely fall foliage, Camden is a perfect combination of nautical elegance and quaint small town comfort.
Columbia River Gorge, OR
There's nothing like the drama of a cliff-side wedding to make a fall wedding unforgettable. Columbia Gorge is home to rustic venues in the shadow of Mt. Hood with heart-stopping 100-foot waterfalls and lush autumn colors.
Once you find the location that speaks to you; whether it's the sky-grazing Rocky Mountains or the oceanside views find a photographer who knows how to capture the natural beauty of the location and a venue that can host your ideal wedding.