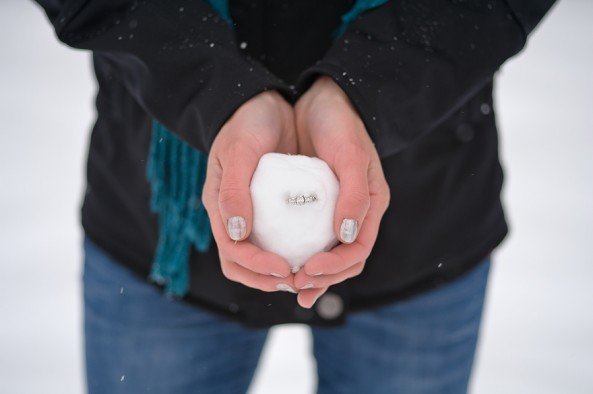 Getting engaged is one of the most exciting times in your life. You and your partner have made the decision to be together forEVER! And that's pretty special. What to do next; how you share the news, and how you celebrate, can be overwhelming. Lucky for you we've rounded up the first 8 things you should do upon getting engaged!
Call your relatives
Of course, you've called your parents and your siblings and had a chance to laugh and cry with them. But before you start posting engagement photos online, as tempting as it may be, call your extended family to share the news. Even if you rarely talk to them in person or by phone, this simple gesture and a 2 minute telephone call can make a world of difference.
Be ready to tell your engagement story a million times
It is inevitably the first thing every person will ask you. "How did they propose?" Don't skimp on the details, even though you've told the same story a dozen times. It is a truly special moment and your friends and family want to hear all the sappy or hilarious details.
Get your ring resized
Your new ring is stunning, but it might still have some wiggle room. Don't risk letting it slip off your finger while flaunting it around. Take it to a jeweler ASAP. Especially if you aren't used to having a ring on your finger, having it properly sized can help a new ring feel more comfortable and secure.
Set the season and year
The question that immediately follows your engagement story will be "When are you getting married?" Although you don't need to set a firm date, it can be extremely helpful to choose a tentative season and year. The summer of 2015 or fall of 2020? People appreciate that you are keeoing them in the loop and it will give you and your partner some direction when you start to plan.
Plan a night out with your fiancé to celebrate
It can be wonderful to have family and friends come out of the woodwork to celebrate this huge life changing moment with you. But don't forget that engagements and weddings are about starting a life together as partners. Take a night to celebrate as a couple and look to an amazing future together.
Make some big decisions as a team
After you celebrate together, and definitely not on the same night, make sure you talk about some of the big planning questions together. What type of wedding? (traditional, destination, offbeat) What size? (intimate, family and friends, large party) What size wedding party? (Just siblings, 2-3 closest friends, 6-10 large party) Make sure you are on the same page before your parents and BFF's start offering their suggestions for what they want and what worked for them. You will be able to answer with clarity and confidence and avoid potentially hurt feelings.
Start a savings account
Even small weddings cost money. And planning ahead can help you avoid relying on credit cards when unexpected costs start to add up in the weeks before the wedding. And those last minute costs are unavoidable even for the most organized couples. Start a separate savings account when you get engaged (or even before) and start putting away a small amount from your paycheck every month until the wedding.
Have fun
Don't rush through things and enjoy the planning process. This is your moment to celebrate how far you've come as a couple and how you want to start the rest of your life together. That's so exciting! Don't get too caught up in family politics or minute details of planning. Rely on other people to help when you need it and keep the planning process manageable. This is your big day, so enjoy it!