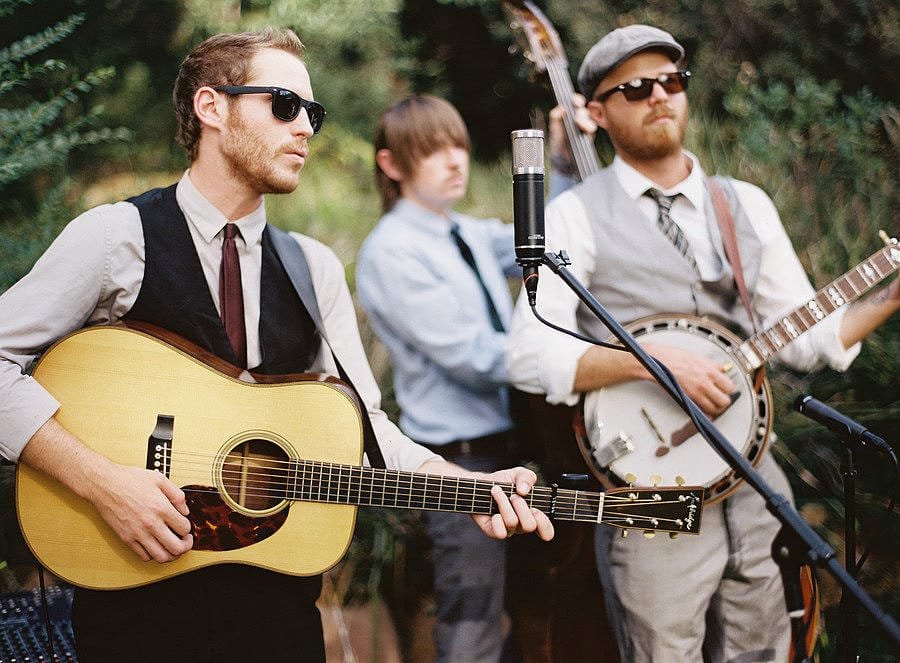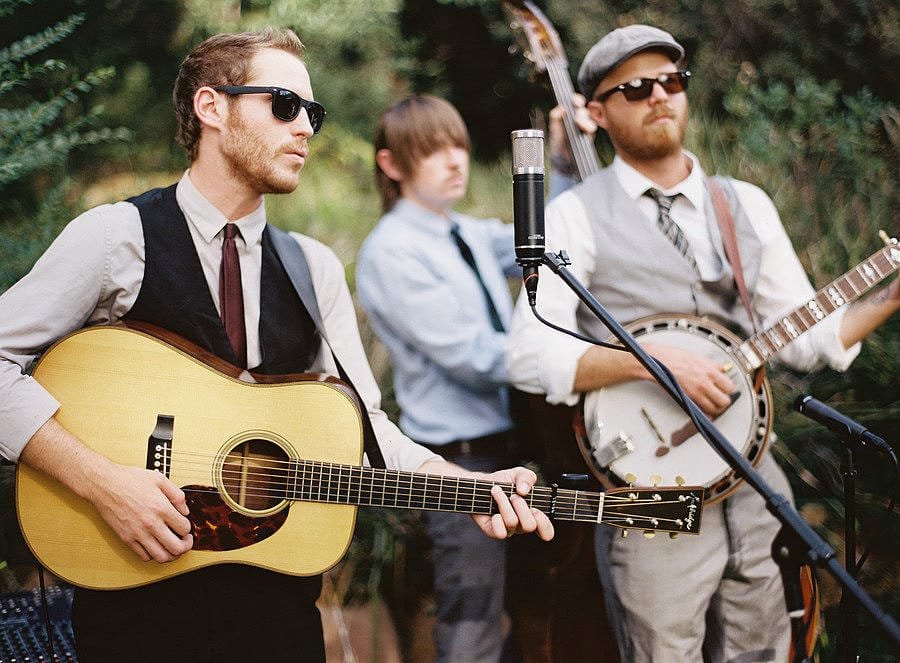 Photo by Tec Petaja via TresSugar.com
Choosing the music for your rustic wedding can be one of the most difficult aspects of planning your big day. Do you book a live band? Do you sacrifice some of the atmosphere of live music for the security of a DJ? Do you cajole a number of your friends into providing live music AND DJing? Do you go DIY and provide the music yourself via your iPod or your trusty singing voice?
Each option has its advantages, depending on your budget, tastes, venue and guest list. Whether you're yearning for Top 40 hits or dreaming of a live local blue grass band, we've compiled a list of pros and cons to help you decide.
LIVE BAND
First the pros:
Atmosphere There's nothing like live music to lend a touch of sophistication and an instant dose of energy to a reception. Listening to a talented singer croon "What a Wonderful World" or a saxophonist play Springsteen's "Dancing in the Dark" right in front of you is an all too rare treat.
Sound quality Bands often invest in higher-quality equipment, though this isn't a hard and fast rule.
Adaptability Live musicians can jack up the tempo of a song if your guests are really getting into a groove, or slow it down to accommodate tired feet or a fading groom. They can also, ahem, clean up questionable lyrics without a conspicuous pause or bleep.
Theme potential A Celtic band can really amp up an Irish wedding, while a swing band could beautifully complement a vintage dress and a 1930s aesthetic.
Now the cons:
Price Again, we're generalizing, but bands tend to cost more than DJs, which rules them out for some couples. If you're spending $2,000 on up, make sure you thoroughly research the band and communicate your needs.
Space A three-member band may be easy enough to accommodate, but you'll never squeeze a 20-piece orchestra into an intimate B&B. And you wouldn't want to, after all there's no volume control on live musicians. Plan ahead to be sure your band doesn't drown out your guests' conversation.
Adaptability Yep, it's a con too. DJs have thousands of songs to choose from, while bands tend to perform a more limited playlist. But keep in mind that many of those thousands of songs are tunes you'd never want to hear at your wedding. Shaggy's "It Wasn't Me" anyone?
DJ
The pros:
Predictability The songs you request will be played as their familiar, original versions. No matter how good a live singer may be, he won't sing "I Get a Kick Out of You" like Old Blue Eyes.
Variety DJs have live bands beat when it comes to their library of playable songs. From pop hits to jazz standards, they can accommodate the tastes of everyone from your college pals to your grandma and grandpa.
No breaks Live musicians need occasional breaks from singing their hearts out and tickling the ivories, but a DJ can typically play all night without interruption.
Easier setup A DJ and his or her equipment generally take up minimal real estate, which can seal the deal for couples tying the knot in smaller venues. Still, a smaller band might fit the same amount of space.
The cons:
Personality pitfalls We've all witnessed how a DJ with a cheesy or over the top persona can really kill a party. This could apply to band leaders, too, if you've asked them to emcee, but it's DJs that have earned the rep. Still, many disc jockeys are talented mix masters who'd never touch a clip-on bowtie.
Boredom DJs sometimes have their routines down so well that they slip into autopilot an hour into the reception. You want a DJ who won't accidently announce you as "Mr. and Mrs. John Patterson" if the bride's keeping her name, or hit play on "YMCA" if you've added it to your do-not-play-on-pain-of-death list.
No backup A band can play on if one of its members gets stuck in traffic, but if your DJ gets held up, you're stuck with no tunes. Be sure to ask your DJ how he or she handles these situations and discuss contingency plans.