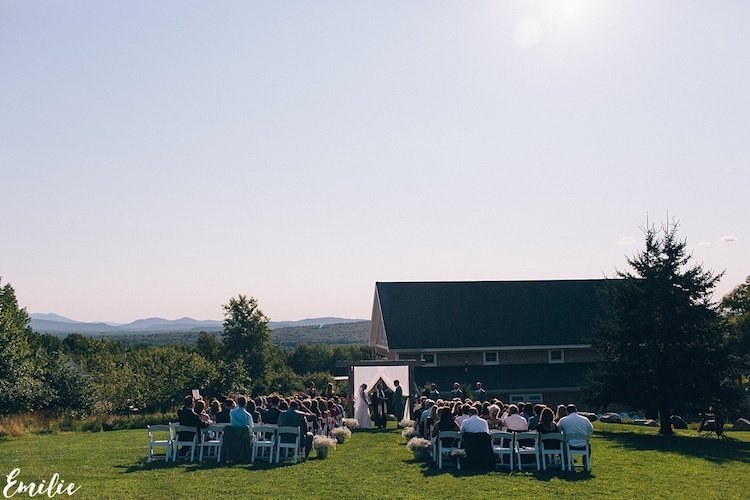 Casey and TJ welcomed guests to Jefferson, NH for a rustic celebration at the beautiful Bellevue Barn at Carlisle Place.

When it came to selecting their wedding venue, Casey and TJ knew they wanted a space that offered an aura of warmth and welcome. They took inspiration from summers spent at the bride's family lake house, to create an intimate "camp" feel with personal design details. A timeless color palette of navy, grey, ivory and green complimented the barn's timber interior. We love how Casey and TJ incorporated their custom wedding logo throughout the day– you'll see their "family crest" pop up on the ceremony programs, beverage koozies and reception place settings!
Photography: Emilie, emilie inc.
Venue: Bellevue Barn at Carlisle Place
Catering: The Accidental Caterer
Floral Design: DIY by the Bride
Entertainment: SKD Entertainment
Sweets: Beach Pea Bakery and Ben & Jerry's Ice Cream
Invitations: Designed by the bride and Egg-a-go-go
Hair: My Reis Salon
Groomsmen: Brooks Brothers
Bridesmaids: Alfred Angelo
Preparation Site: Jefferson Inn
Transportation: WW Berry's Transportation
Guest accommodations: Mountain View Grand Resort